Two Screens
Productivity of British workers is a frequently raised issue by people in Government, if you have any interest in improving your productivity, and those you influence, here are three power user tips for FREE!
Attach a second screen to your computer and raise that up as well.
Why – cheap cost about £100 – you can pay more but clearly with an expected life of say 5-years. £20 per year (Could last 10-years) this is not a costly option.
Benefit – allows you to do two things at once. Example write a document on productivity on one screen whilst checking facts on the other. Certainly all Windows laptops and PCs I have seen have the connection for a second screen. Then on your machine go to screen settings and choose extend my screen. Takes a few minutes to get use to but once you have you will never go back to one screen.
Why do you see so few people doing this?
Most people try and make jobs as long as possible, is the only explanation. If you are still struggling to see the benefit you will never be convinced by anything to do with increasing productivity. (All the self-employed, small business owner people I know in IT / Marketing use two screens.)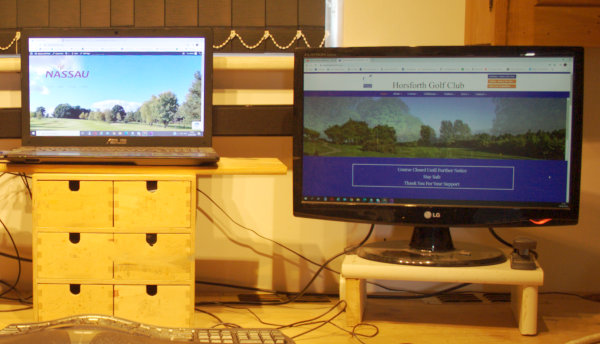 If you are about 6 foot tall that means having the laptop about a foot from the surface of the desk a shorter person might want that a few inches lower.
You want your eyes level with the top of the screen making you look straight ahead or slightly up.
When you are setup like this you will reduce the chances of tipping a drink in to your laptop. The most common way computers are damaged.
Ergonomic Keyboard
An ergonomic keyboard which is shaped to fit those with broader shoulders and larger hands can be very helpful. Smaller people might be OK with a straight keyboard.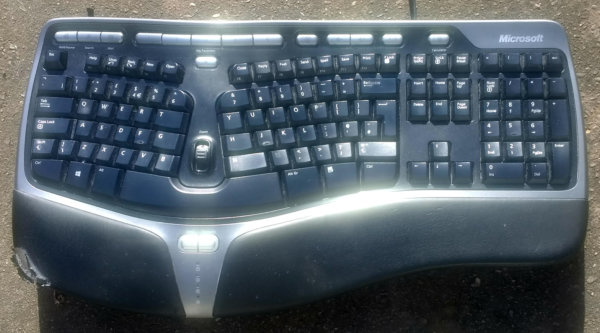 Learn To Touch Type
Learn to touch type. If everyone who uses a computer at work touch typed that would give a massive boost to UK productivity.
Summary
If you want to be productive ensure that:-
1 Laptop is raised up
2 Has another screen attached to it
3 You have a proper keyboard and mouse
4 You teach yourself to touch type
5 One thing worth spending a bit on is a decent office chair – if you are going to be sitting on it 5 days a week for 8 hours, after your bed it will be the place you spend the most time.
Bonus Once you have these in place treat yourself to sound bar. Position that at ear height and you will be able to work away with some relaxing music to your hearts content.
Take a break every hour walk around – hang the washing out to dry, bring it in. Sitting at a screen for hours without a break will not do you any good.